lage prijs Android 8.1 universele auto dvd
| | |
| --- | --- |
| Prijs unit: | USD 90 / Piece/Pieces |
| betaling Type: | T/T,Paypal |
| Incoterm: | FOB |
| Min. orde: | 100 Piece/Pieces |
| Levertijd: | 10 dagen |
Basis informatie
Model: KD-7099
Combinatie: Radio, MP3 / MP4-speler, Bluetooth, GPS
Plaatsing: Dashboard
certificaat: FCC, CE
Spanning: 12 / 24V
Ondersteuningsformaat: AVI
Audio uitgang: Digitale optische uitgang
Video uitgang: Video
Screen: Capacitive And Multi-touch Screen
Amplifer IC: TDA 7851
Power Supply: 4*50W
Map Solution: 1024*600
Scherm grootte: 7 inch
OS: Android 8.1 System
CPU: AC8227L ,Cortex-A7, Quad-Core
RAM: SAMSUNG DDR3 1.3GB
Flash: 16GB
Radio: TDA 7786C
Bluetooth: MT6625 4.0
Additional Info
verpakkingen: GESCHENKDOOS
produktiviteit: 20000 per month
merk: Klyde
vervoer: Ocean,Land,Air
Plaats van herkomst: China, Shenzhen
Capaciteit van de levering: 350000 per year
Certificaat: CE FCC ROHS
GS-code: 8520909090
Haven: Shenzhen,Hongkong
Beschrijving
speciale en lage prijs Android 8.1 AC8227L Cortex-A7 Quad-Core Sluit externe OBD universele auto dvd

Android 8.1
AC8227L Cortex-A7 Quad-Core universele autoradio
Belangrijkste kenmerken:
1) Het nieuwste Android 8.1 quad-systeem, Quad Core & 16GB ROM, meer soepele en snellere verwerkingssnelheid voor actieve applicaties.
2) Radio-IC van hoge kwaliteit: TDA 7786C, met betere ontvangst; Ingebouwde TDA7851-versterker IC; Ondersteunt de subwoofer-audio-uitvoer en regelt deze afzonderlijk; Schermresolutie: 1024 * 600; Ondersteuning van 4K (3840 × 2160 pixels) / 1080P HD-video; Ondersteuning spiegellinkfunctie, u kunt de online GPS van uw smartphone gebruiken om op dit apparaat te spiegelen; Ondersteuning DAB + -functie (optioneel).
3) Android 8.1 AC8227L Cortex-A7 Quad-Core universele autoradio ondersteunt GPS-navigatie, pre-install Google map (zonder offline kaartgegevens); Ondersteun bijna alles aan de hoofdsteunen, zelfs als het de video afspeelt vanaf USB / SD-kaart, of online You tube video; Ingebouwde USB-poort / Micro SD-sleuf (tot 128 GB), WIFI (ingebouwde WIFI-modem) / 4G internet (extra apparaat vereist); Ondersteuning achteruitrijcamera (extra apparaat vereist).
4) Ondersteuning Snelle start, na de installatie, deze Android 8.1 AC8227L Cortex-A7 Quad-Core universele auto autoradio heeft slechts ongeveer 1 seconde nodig om te stoppen met opstarten vanaf de 2e keer. (Andere machines duren meestal 30 seconden)
5) Android 8.1 AC8227L Cortex-A7 Quad-Core universele auto autoradio Ondersteuning Bluetooth-oproep / geluid afspelen, Sync telefoonboek, snel zoeken contacten, externe microfoon; Ondersteuning van Bluetooth OBD2 diagnostisch scannen.
Nieuwe functie: DSP
Android Solution kan automatisch DSP-hardware lezen, UI's van versterkerinstellingen voor hardware met of zonder DSP is anders.
Maak de opgegeven locatie in de auto om het beste te kunnen luisteren. Het lijkt erop dat ik in het midden van het podium zit.
Bij inschakelen gebruikt DSP de parameters van de luidspreker die automatisch is ingesteld om de beste luisterinstellingen te berekenen.
Druk op de onderstaande knop, zoals de driver, copiloot, RearLeft, RealRight, om de beste luisterplaats in te stellen.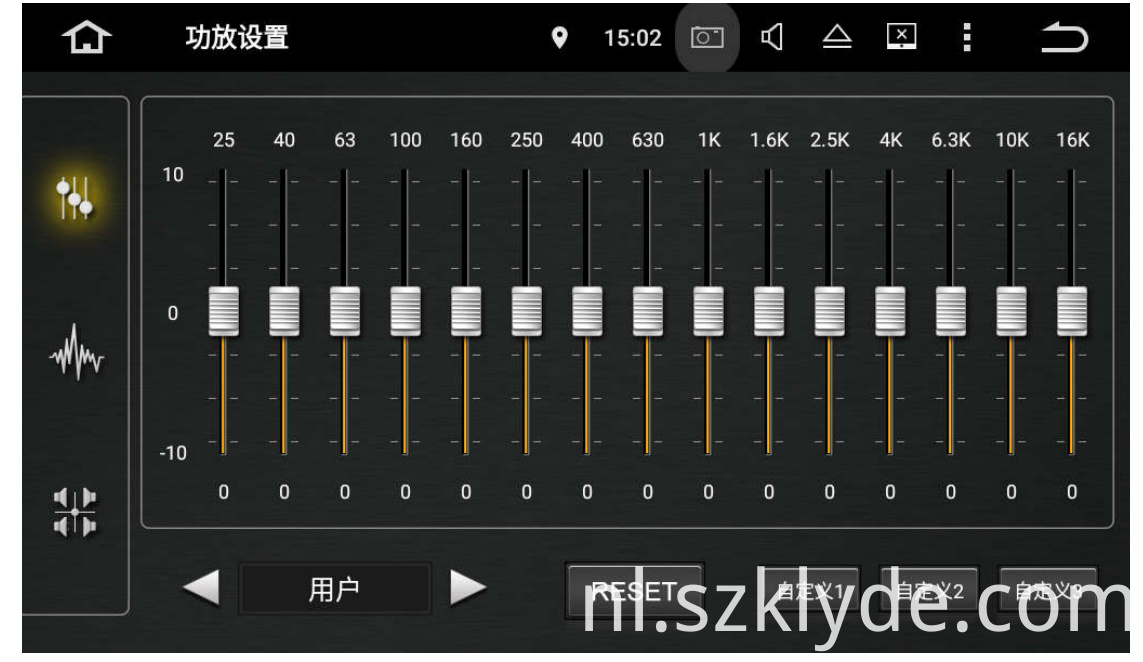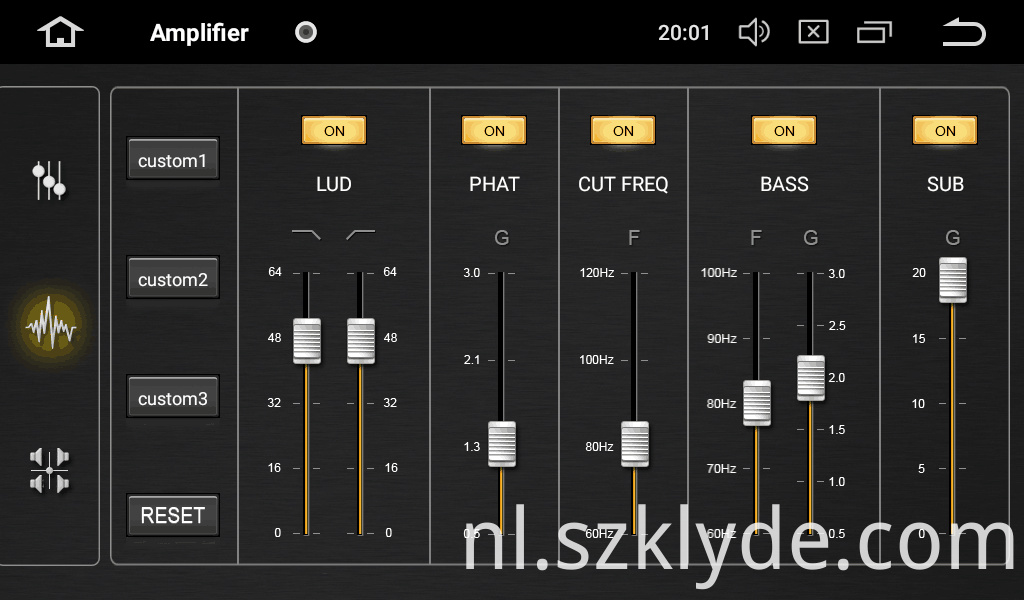 Dual-screen interactief mobiel internet
Ondersteuning Mirror link-functie, kunt u alle inhoud van uw slimme foto te synchroniseren om weer te geven op de auto dvd groot scherm, zoals games, foto's, muziek, ect.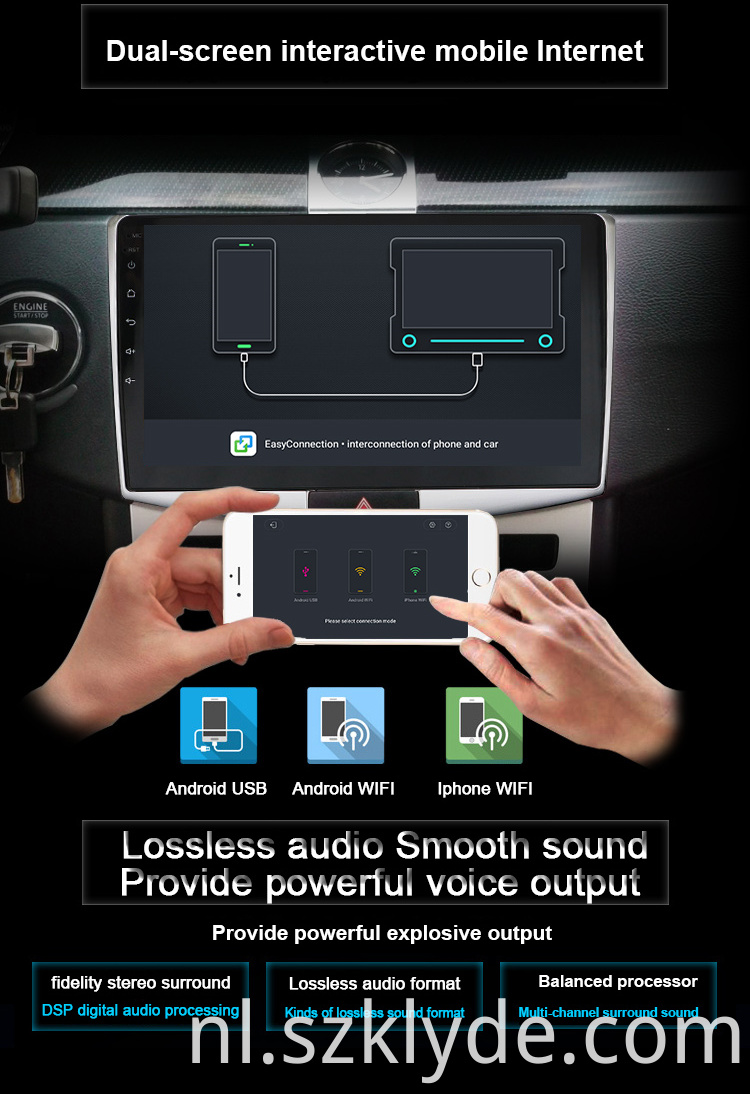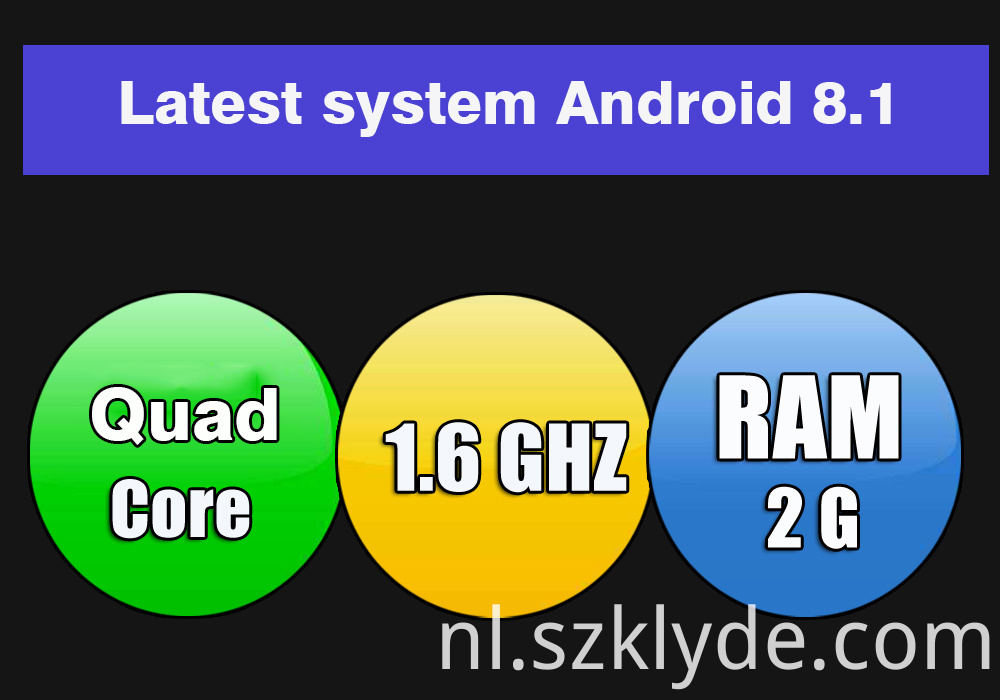 Stuurwielbesturing


TMPS (optioneel)
Dit systeem bevat een monitor en vier sensoren, wanneer u de interne sensoren gebruikt, de sensor in plaats van de originele auto-gasmondstuk geïnstalleerd, gebruikt u de externe sensor, gebruik de antidiefstalmoer van de sensor direct bevestigd in het originele autogasmondstuk; sensor meten van bandenspanning en temperatuur, en stuur de informatie van de band naar TPMS-ontvanger, de ontvanger de datum naar dvd verzenden via USB-poort. wanneer de bandenspanning laag is, of lekt, en op hoge temperatuur, heeft DVD een oorlog door geluid en licht, om bestuurders eraan te herinneren aandacht te schenken aan de voertuigveiligheid.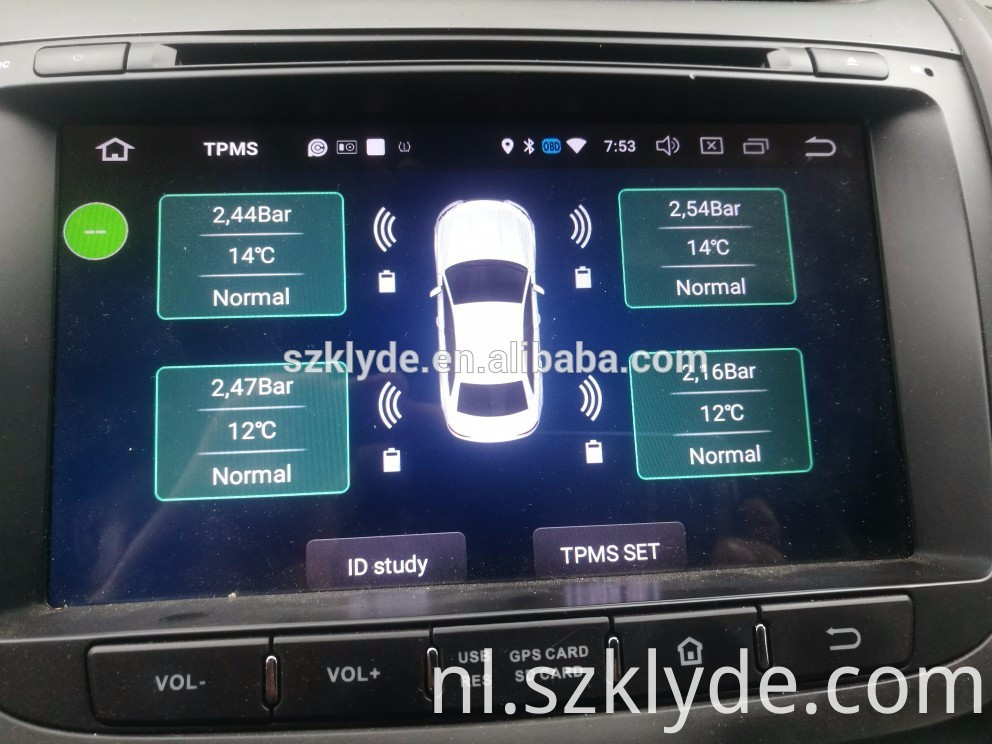 PAPEGAAI BLUETOOTH (optioneel)
Telefonie
Internettoegang (via DUN of PAN)
Audiostreaming
Spraakherkenning / tekst naar
Toespraak
De FC6000T integreert de nieuwste versie van de Parrot Bluetooth-stack (Blues).
Blues geeft de klant een zeer hoge mate van compatibiliteit met de meeste telefoons die op de markt beschikbaar zijn en biedt telefoonboek- en listsynchronisatie. FC6000T biedt de mogelijkheid om een ​​Speaker Independent Voice Recognition (SIVR) en een Text To Speech-algoritme (TTS) te gebruiken.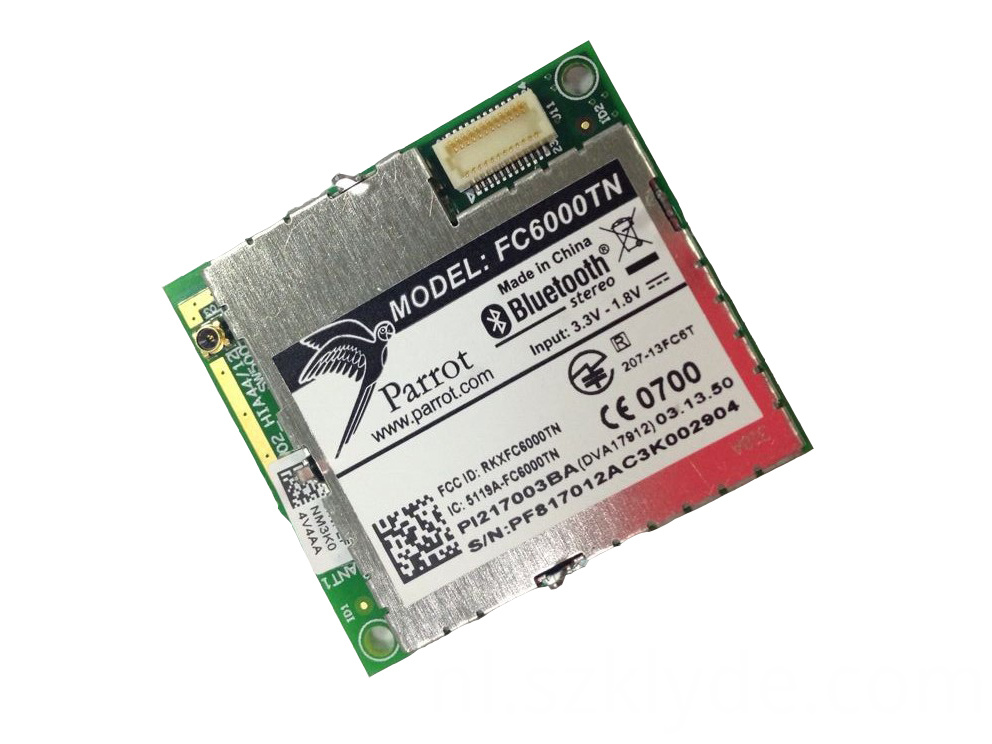 DAB + (optioneel)
Digital Audio Broadcasting biedt u multiregionale muziek met uw lokale bekende en ook nieuwe kanalen. CD-geluidskwaliteit en ruisvrij in uitstekende transmissie maken van DAB Radio een speciale ervaring in het voertuig. Permanente toename van kanalen en uitbreiding van het stationsgebied maken DAB binnenkort toegankelijk voor het grootste deel van Europa.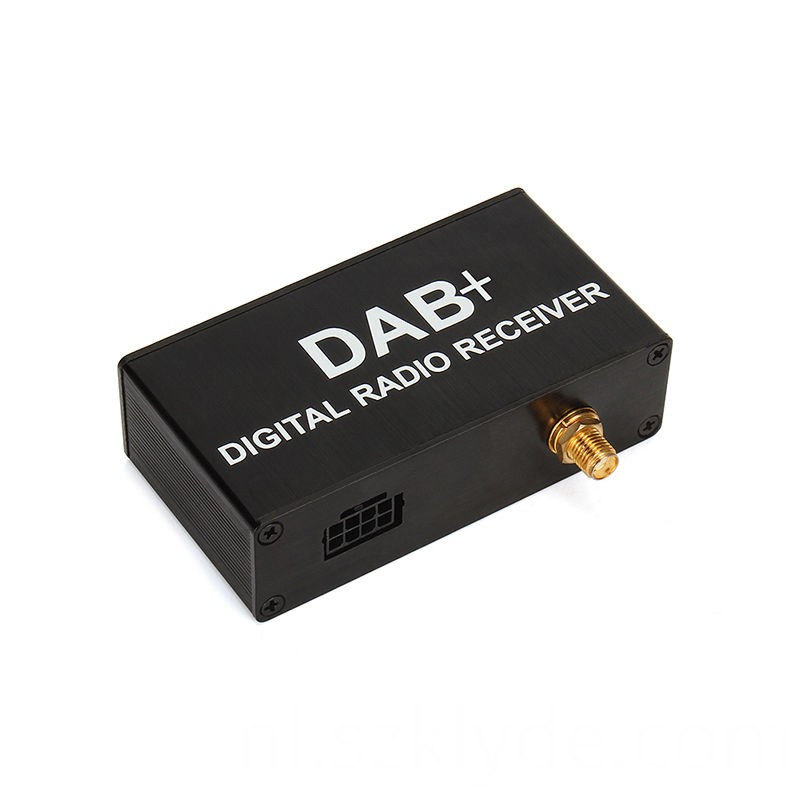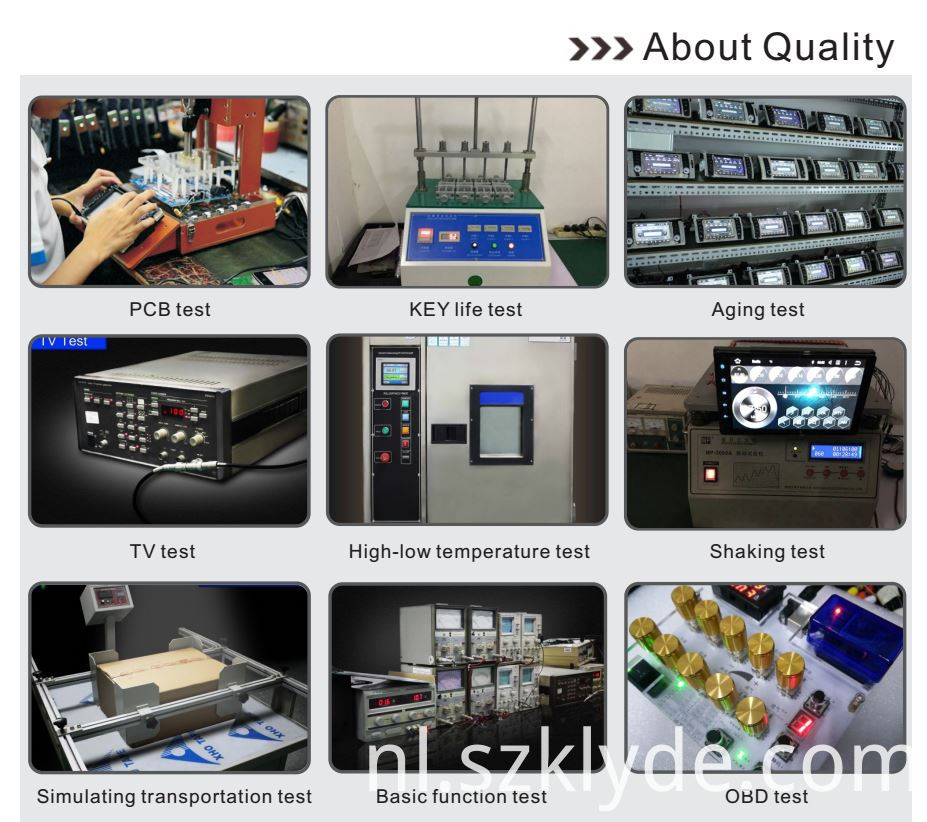 FAQ
Q1: past het in mijn auto?
A1: stuur ons de jaar- / naam- en dashboardfoto die u zoekt.

Vraag 2: Hoe lang is de garantie?
A2: een jaar.

V3: Waarom kon de afstandsbediening niet werken?
A3: controleer of de batterij leeg is
Als je vragen hebt, neem dan contact met me op
Skype: szklyde9
Wechat: 13226816572
WhatsApp: +86 13226816572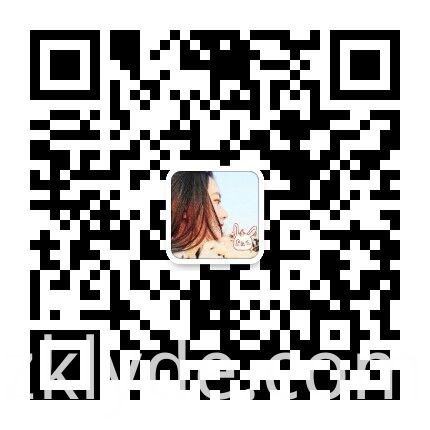 Product Categorie : Universele Android auto Dvd